The 2022 Subaru Love Promise Community Commitment Award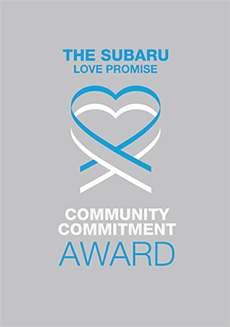 We've been nationally recognized for our dedication to our community and the Subaru Love Promise.
We're honored to receive the 2022 Subaru Love Promise Community Commitment Award. This award nationally recognizes Subaru retailers who are making the world a better place while demonstrating an outstanding commitment to supporting passions and causes in local communities. These efforts are focused in important areas such as the environment, community, health, education, and pets.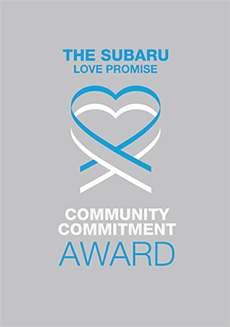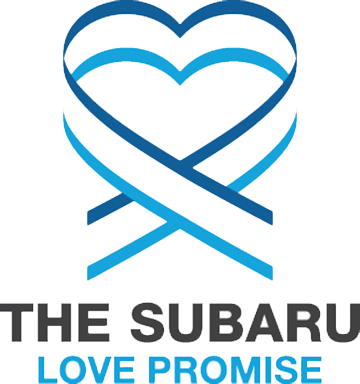 What is the Subaru Love Promise?
Subaru and our retailers believe in making the world a better place and the Subaru Love Promise is our vision of respecting all people. This is our commitment to show love and respect to our customers and to work to make a positive impact in the world.
How is Stevens Creek Subaru dedicated locally to the Love Promise?
Our Love Promise can be seen in various partnerships with local charities and non-profits. We're grateful for the opportunity, not only to be a part of our community, but to serve it as well.
Humane Society Silicon Valley
Lucile Packard Children's Hospital, American Heart Association
Love Promise Stories from Stevens Creek Subaru
Subaru and Stevens Creek Subaru believe in making a positive impact on the communities in which we live and work. We uphold that belief through our Love Promise Community Commitment. Every month, we select inspiring stories from customers and partners from around our area who strive to support our collective commitment and feature them here
Water-resistant blankets and warm socks - Michael M
Through our Love Promise, a commitment to support our local communities, Stevens Creek Subaru is proud to partner with HomeFirst Program San Jose by delivering water-resistant blankets and warm socks to help those in need this winter season. More than 500,000 Americans experience homelessness each night. Last November, as part of Subaru Loves to Help, Subaru of America and Stevens Creek Subaru donated 50,000 warm blankets to local homeless shelters across the country. This November, we are doing it again, bringing our donation total to 100,000 blankets donated. And in addition to more blankets, we will also be donating 50,000 pairs of socks, all to help those in need. Showing warmth and compassion for those who find themselves without a roof over their heads this season is just one of the ways Stevens Creek Subaru is doing even more to make a difference.
---
Subaru Donates Books to Middle School - Sim G
Stevens Creek Subaru generously donated over a hundred books to our middle school library. It was perfect timing since our school just got remodeled and needed new books to fill up the shelves. This was such a nice surprise especially since the students love coming into the library every day during break and lunch. Now they will have another great reason to visit the library. Thank you Kevin for reaching out to us and delivering the books to our school. Our students LOVE reading and they will be so happy to see all these new books. We appreciate your generosity. Subaru definitely LOVES learning and giving back to the community!
---
Oncology Infusion Appreciates Subaru - Mary S
Throughout the years, Subaru's "Share the Love" campaign has graciously donated funds to our nurses of the Infusion Treatment Area Cancer Center Palo Alto. As Oncology nurses, we not only are able to deliver complex treatment but also give of ourselves to take care of patients, touching people's lives as they touch ours at a very vulnerable time in their life. As was the case with Kevin. Kevin, his family, and his friend John wanted to continue to give to give back to those nurses who selflessly gave comfort, compassion, and holistic care during his battle with cancer. Kevin wanted the nurses to utilize the generous funds for self-care, celebrations with food, milestone staff events and educational opportunities. It has been challenging the last two years, we weren't able to send nurses to conferences or have retreats that aid with team building and self-care. However, thanks to the Subaru donations, we've still been able to support the staff in different ways. We have provided lunches on busy shifts when the days felt never ending; we have given holiday gifts in lieu of holiday parties which had to be cancelled; we have provided meals and decorations for celebration of life events including babies, weddings, retirement, and graduations which continued to happen despite the global pandemic. These gifts helped to boost morale, keep smiles on our faces and continue to do what we do best….care for our oncology patients. Our appreciation is endless to you at Subaru! Enjoy the photos….they truly resonate the joy of your gift.Sincerely, The Infusion Treatment Area at the Stanford Cancer Center!
---
Subaru helps Jake find a Forever Family - Sarah A
Stevens Creek Subaru and Humane Society Silicon Valley (HSSV) paired up in October of 2021 to help find loving homes for shelter animals. One animal in particular was a dog named Jake. This special 10-year-old Pit Bull was surrendered to HSSV when his owner could no longer provide care for him. In the shelter, Jake became a staff and volunteer favorite. He played with his favorite stuffed toys, was very polite with other dogs, and lived for taking daily walks. And yet, despite being one of the sweetest boys, Jake wasn't finding a home as quickly as we'd hope. Some dogs are adopted within in a week of being made available, but over a month had passed and Jake was still waiting. Then Subaru and HSSV decided to partner together to highlight the "underdogs" who just needed a bit more attention and help finding their perfect match. Jake was one of the spotlighted animals, and after being featured in some key promotions, he started getting more attention! By mid-October, Jake found his second chance with a forever family. He is now enjoying his senior years surrounded by love, thanks to a little help from Stevens Creek Subaru.
---
Make a Dog's Day - Lea R
On October 22nd Stevens Creek Subaru hosted a no-fee adoption event, partnering with The Humane Society Silicon Valley. I was able to take home this adorable 10-week old puppy. She's healthy, spayed and micro-chipped. All of the adoption fees were included. They sent me home with a Bark Box and new pet owner kit to get us started off right. As an added bonus, The Humane Society included six training sessions! After my aged dog had passed away last summer, I have felt like something has been missing. A very special 'Thank You' to Subaru, Stevens Creek Subaru and HSSV, for helping to fill that emptiness in my heart.
---
Giving When It Means the Most - Bernadette W
Subaru's support comes at a critical time for so many of the families we serve. Since the pandemic began, Second Harvest has been serving 500,000 people a month at more than 900 distribution sites located in neighborhoods throughout Santa Clara and San Mateo counties, which is double the number of clients who needed support pre-pandemic. Subaru's generous support helps clients like Andy Cuevas – a veteran, student and father of two who lost his job during the pandemic – receiving nutritious groceries from Second Harvest helped alleviate stress for his family. It also provided an outlet for helping others in the community; Cuevas now regularly volunteers at a Second Harvest free grocery distribution at College of San Mateo. "People started hearing about me volunteering and started feeling comfortable asking me if anyone could come receive food," said Cuevas. "I began referring families to the distribution. A lot of the parents – blue collar parents, low-income parents – were hit by [by the impact of] COVID. "When the pandemic began, half of the people Second Harvest was serving had never received food assistance before. For many people, reaching out for help can be extremely difficult as they struggle with the stigma of needing assistance. "We see over and over that people are doing everything they can to hold on. Parents are hustling, trying to find new sources of income or moving in with other family members to keep their children fed and housed," said Bacho. "The economics are colliding with the stress of the pandemic. I want to encourage people not to delay getting help if they need it."
---
Subaru and HSSV Keep Families Together - Alison S
In October 2020, Stevens Creek Subaru sponsored our Trunk-or-Treat pet food donation drive which helped us collect pet food for our Pet Pantry Program. Humane Society Silicon Valley's Pet Pantry Program provides pet food to families facing financial hardship who could not otherwise afford to feed their pets. The program is a vital service to some in our community, and amid the COVID-19 pandemic, there has been a significant increase in Pet Pantry participants. At HSSV, we believe that a families' inability to feed their pet should not contribute to stress, nor should anyone have to decide between feeding themselves or feeding their animal. Thanks to our partners at Stevens Creek Subaru, we can continue to support families in need by keeping animals in homes and out of shelters!
---
Above and Beyond - Sony J
I purchased a Subaru forester and the employee Humayun Ben Ibrahim went above and beyond explaining all the parts of Subaru. He was very thorough and when we had questions we went back to him and he answered them again.
---
Subaru and LLS Spread Hope and Love - Teresa V
On July 9, 2019 members of Stevens Creek Subaru's sales and service team joined the Silicon Valley Monterey Bay chapter of the Leukemia and Lymphoma Society to deliver blankets to O'Connor Hospital in San Jose. Greeted by O'Connor Hospital staff the team packed up three carts of blankets and delivered them to O'Connor's Oncology Department. Subaru staff expressed their delight in being able to make a difference in the community and O'Conner staff were overwhelmingly appreciative to receive Subaru's gift of warmth and love.
---
Stevens Creek Helps Grant Wishes for Children - Joe F
As a part of the 2018 Share the Love Campaign, Stevens Creek Subaru raised $13,015 for Make-A-Wish Greater Bay Area to help grant wishes for children with critical illnesses in our community. For example, Stevens Creek Subaru helped grant 3-year-old Julian's wish to visit his favorite theme park. During his medical treatments, Julian was always able to smile and laugh while he was watching his favorite movies. Goofy and Lightning McQueen are his favorite characters and his parents said that the look on Julian's face when he saw them in person was unforgettable. Make-A-Wish Greater Bay Area is grateful to Stevens Creek Subaru and their customers for helping make wishes like Julian's come true. Through their partnership with Make-A-Wish, Stevens Creek Subaru is helping to ensure that every eligible child receives a wish so he or she can replace fear with confidence, sadness with joy, and anxiety with hope.
---