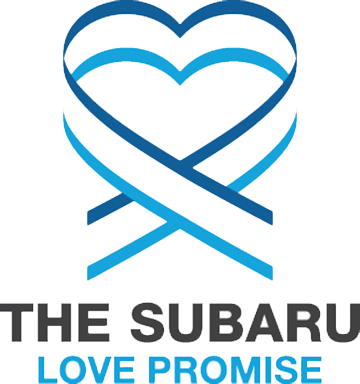 What is the Subaru Love Promise?
Subaru and our retailers believe in making the world a better place and the Subaru Love Promise is our vision of respecting all people. This is our commitment to show love and respect to our customers and to work to make a positive impact in the world.
How is Stevens Creek Subaru dedicated locally to the Love Promise?
Our Love Promise can be seen in various partnerships with local charities and non-profits. We're grateful for the opportunity, not only to be a part of our community, but to serve it as well.
Humane Society Silicon Valley
Lucile Packard Children's Hospital, American Heart Association
Love Promise Stories from Stevens Creek Subaru
Subaru and Stevens Creek Subaru believe in making a positive impact on the communities in which we live and work. We uphold that belief through our Love Promise Community Commitment. Every month, we select inspiring stories from customers and partners from around our area who strive to support our collective commitment and feature them here
Giving When It Means the Most - Bernadette W
Subaru's support comes at a critical time for so many of the families we serve. Since the pandemic began, Second Harvest has been serving 500,000 people a month at more than 900 distribution sites located in neighborhoods throughout Santa Clara and San Mateo counties, which is double the number of clients who needed support pre-pandemic. Subaru's generous support helps clients like Andy Cuevas – a veteran, student and father of two who lost his job during the pandemic – receiving nutritious groceries from Second Harvest helped alleviate stress for his family. It also provided an outlet for helping others in the community; Cuevas now regularly volunteers at a Second Harvest free grocery distribution at College of San Mateo. "People started hearing about me volunteering and started feeling comfortable asking me if anyone could come receive food," said Cuevas. "I began referring families to the distribution. A lot of the parents – blue collar parents, low-income parents – were hit by [by the impact of] COVID. "When the pandemic began, half of the people Second Harvest was serving had never received food assistance before. For many people, reaching out for help can be extremely difficult as they struggle with the stigma of needing assistance. "We see over and over that people are doing everything they can to hold on. Parents are hustling, trying to find new sources of income or moving in with other family members to keep their children fed and housed," said Bacho. "The economics are colliding with the stress of the pandemic. I want to encourage people not to delay getting help if they need it."
---
Subaru and HSSV Keep Families Together - Alison S
In October 2020, Stevens Creek Subaru sponsored our Trunk-or-Treat pet food donation drive which helped us collect pet food for our Pet Pantry Program. Humane Society Silicon Valley's Pet Pantry Program provides pet food to families facing financial hardship who could not otherwise afford to feed their pets. The program is a vital service to some in our community, and amid the COVID-19 pandemic, there has been a significant increase in Pet Pantry participants. At HSSV, we believe that a families' inability to feed their pet should not contribute to stress, nor should anyone have to decide between feeding themselves or feeding their animal. Thanks to our partners at Stevens Creek Subaru, we can continue to support families in need by keeping animals in homes and out of shelters!
---
Above and Beyond - Sony J
I purchased a Subaru forester and the employee Humayun Ben Ibrahim went above and beyond explaining all the parts of Subaru. He was very thorough and when we had questions we went back to him and he answered them again.
---
Subaru and LLS Spread Hope and Love - Teresa V
On July 9, 2019 members of Stevens Creek Subaru's sales and service team joined the Silicon Valley Monterey Bay chapter of the Leukemia and Lymphoma Society to deliver blankets to O'Connor Hospital in San Jose. Greeted by O'Connor Hospital staff the team packed up three carts of blankets and delivered them to O'Connor's Oncology Department. Subaru staff expressed their delight in being able to make a difference in the community and O'Conner staff were overwhelmingly appreciative to receive Subaru's gift of warmth and love.
---
Stevens Creek Helps Grant Wishes for Children - Joe F
As a part of the 2018 Share the Love Campaign, Stevens Creek Subaru raised $13,015 for Make-A-Wish Greater Bay Area to help grant wishes for children with critical illnesses in our community. For example, Stevens Creek Subaru helped grant 3-year-old Julian's wish to visit his favorite theme park. During his medical treatments, Julian was always able to smile and laugh while he was watching his favorite movies. Goofy and Lightning McQueen are his favorite characters and his parents said that the look on Julian's face when he saw them in person was unforgettable. Make-A-Wish Greater Bay Area is grateful to Stevens Creek Subaru and their customers for helping make wishes like Julian's come true. Through their partnership with Make-A-Wish, Stevens Creek Subaru is helping to ensure that every eligible child receives a wish so he or she can replace fear with confidence, sadness with joy, and anxiety with hope.
---
Subaru and LLS Partner to Crush Cancer - Hannah T
The team at Stevens Creek Subaru delivered over 100 blankets to cancer patients at O'Connor Hospital. They joined our LLS staff alongside with the oncology doctors and nurses to hand out blankets to patients who are going through treatment at the infusion center. One of our amazing volunteers, Jack Aiello, who has been with LLS for over 15 years also came to join the forces. Jack was diagnosed with Stage 3 Multiple Myeloma in 1995 and given 2-3 years to live. After 3 transplants, 2 clinical trials, 4 rounds of radiations (3-4 weeks per round, Monday through Friday), and several rounds of chemotherapy, Jack has been in long-term remission ever since. Jack shared with us his heart-warming message: "Whenever I've done blanket deliveries, it takes me back to when I was a patient and how great it felt to get a heated blanket and be wrapped up like a cocoon. It really helped get past feeling so crappy. I personally know how much these blankets are appreciated. I also enjoyed seeing all the Subaru folks so energized by the visit".
---
Subaru & LLS Deliver Gestures of Hope to Cancer Pa - Shannon H
Stevens Creek Subaru showed up in numbers to deliver blankets and craft kits to cancer patients at O'Connor Hospital. Along with LLS staff and O'Connor's Oncology nurses and doctors, Subaru staff were able to hand out blankets to patients undergoing treatment at the infusion center. O'Connor Hospital's Oncology Unit and Infusion center are growing rapidly, seeing around 25-30 patients daily. There are currently 2-3 children staying long-term in the pediatric unit. The craft kits were distributed to these children along with other kids staying at the hospital. The Leukemia & Lymphoma Society's Honored Hero's mom, Monique Abed, was able to attend the blanket delivery as well. Monique shared the story of her son's, Liam, battle with AML. Monique was Liam's bone marrow donor, ultimately saving his life after he relapsed in the fall of 2016. Liam is now in remission and doing well. All in all, it was a great day improving the quality of life for patients and their families!
---
Float Like a Butterfly, Work Like a Bee! - Brian B
Stevens Creek Subaru and the National Wildlife Federation are proud members of the "Subaru Loves The Earth" initiative and we need your help in building awareness to this great cause. Stevens Creek Subaru will provide milkweed seeds and "Hero Kits" that will help build habitats for Monarch Butterfly's and other pollinators to grow in population. Stevens Creek Subaru has already been certified a natural butterfly habitat. With Subaru and the National Wildlife Federation maybe you can do the same!
---
Stevens Creek Subaru Loves The Earth! - Brian B
The team at Stevens Creek Subaru loves helping our community! We held an e-waste event in April 2015 and collected boxes and boxes of old, broken monitors, printers, and computers. Instead of these items showing up in our landfills, we collected them so they could be recycled and re-used. Just image how much this helps the environment, and the future for generations to come! The team at Stevens Creek Subaru believes in helping and this is just one of the ways we do!
---
Stevens Creek Subaru Proudly Supports the Humane Society Silicon Valley - Amy W
Stevens Creek Subaru is proud of our partenership with Humane Society Silicon Valley (HSSV). HSSV is a privately funded, non-profit organization with an Animal Community Center in Milpitas and three Neighborhood Adoption Centers independently operated in West San Jose PETCO, Sunnyvale PETCO, and Mountain View PetSmart. They have been connecting people and pets in the Silicon Valley community for over 80 years from their state of the art facility, with an impressive shelter medicine program, exemplary volunteer and educational programs, as well as progressive behavior and training programs to supply ongoing support to adopters. As part of our relationship with HSSV, Stevens Creek Subaru sponsored their 2014 fundraiser, Walk'n Wag, and has held an adoption event, at the dealership, wherein we paid for the adoption fees, allowing families to unite with pets in need. The entire Stevens Creek Subaru team supports and encourages families to adopt pets, and looks forward to continuing to Share the Love!
---